1957 General Motors Group Paint and Color Codes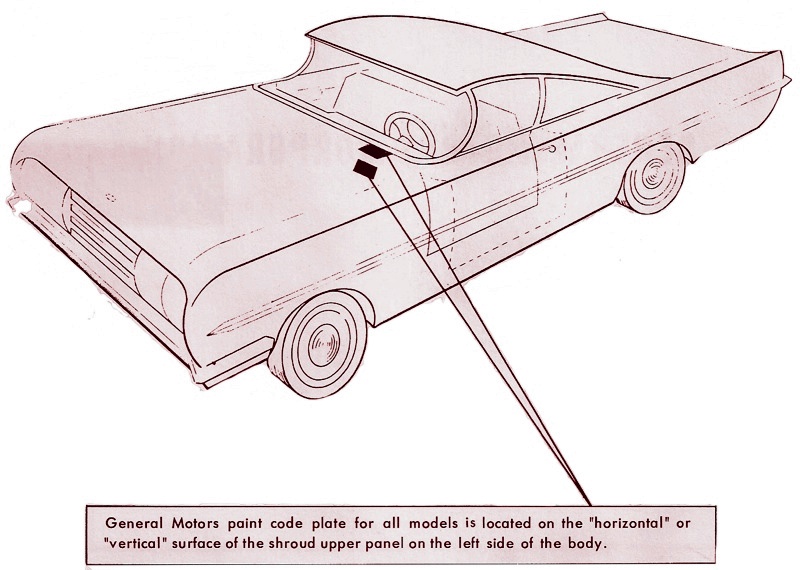 LOCATION OF PAINT CODE

General Motors paint code plate for all models except Corvair and Corvette is located under the hood at the top of the firewall on left or right of upper shroud. Corvair paint code plate is on the left cross-rail in the engine compartment. Corvette paint code plate is an instrument panel brace, below the glove compartment.


TWO-TONE COMBINATIONS: CHEVROLET, BUICK AND PONTIAC

Two letter paint codes identify two-tone combinations. The first letter identifies the main body color, second letter the upper or lower roof color.


DULUX®

Dulux is not recommended for the repair of LUCITE - or other Acrylic Lacquer finishes.


NOTE:

It may be necessary, at times, to tint colors to produce a satisfactory match due to normal weathering and changes in color standards.
Apricot

56-T

1956 - 1957

L1E 1280-G

Bittersweet

56-U

1956 - 1957

L1E 1281-MM

JK-3755-MM

Dover White

57-C

1955 - 1957

L1A 954

Castle Gray Metallic

57-B

1956 - 1957

L2A 1211

JK-3537

Seminole Red

57-M

1957

L1R 1216-R

JK-3542-R

Starlight Blue Metallic

57-D

1957

L2L 1412-G

JK-4065-G

Biscay Blue Metallic

57-E

1957

L2L-1415G

JK-4068-G

Dresden Blue

57-G

1957

L1L 1413

JK-4066

Kearney Green Metallic

57-H

1957

L2G 1414G

JK-4067-G

Belmont Green

57-J

1957

L1G 1409

Mint Green

57-K

1957

L1G 1410

JK-4063

Jade Green Metallic

57-L

1957

L2G 1419

Garnet Red Metallic

57-N

1957

L2R 1418-G

JK 4071-G

Shell Beige

57-P

1957

L1R 1417

JK-4070

Antique Ivory

57-R

1957

L1H-1416

Dawn Gray

57-T

1957

L1A 1411
CHEVROLET EXTERIOR COLORS (* = 1957 Color carried over from 1956)

Laurel Green Metallic

820
823

1956 - 1957

L2G 1292

JK-3859

Colonial Cream

800
815
816
820*
823*

1957

L1H 1331

JK-4049

Calypso Cream

750
755(U)
756(U)

1956 - 1957

L1H 1285

F1H 1285

Tropical Turquoise

799
811

1956 - 1957

L1L 1293

JK-3860

Surf Green

797
812
813
798*

1957

L1G 1334

JK-4047

Coronado Yellow

803
814

1957

L1N 1335

JK-4050

India Ivory

807 / 819
810 / 793*
811 / 799*
813 / 800*
814 / 801*
816 / 802*
817 / 803*

1955 - 1957

L1A 978

F1A 978

Grecian Gold Metallic

756(L)

1956

L2N 1294-G

JK-3861

Inca Silver Metallic

804
808
794*

1956 - 1957

L11A 1337

JK-3857

Larkspur Blue

795
809
810
796*

1957

L1L 1333

JK-4046

Canyon Coral

801
817

1957

L1R 1336

JK-4051

Matador Red

802
819

1956 - 1957

L1R 1119

F1R 1119

Sierra Gold Metallic

805
818
806*

1956 - 1957

L2N 1232-MM

JK-3610-X

Imperial Ivory

794
808
822
804*
821


1956 - 1957

L10A 1338

JK-3858

Highland Green Metallic

798
812
797*

1957

L2G 1332-G

JK-4048-G

Dusk Pearl Metallic

821
822

1957

L11P 1339

JK-4129

Harbor Blue Metallic

796
809
795 *

1956 - 1957

L2L 1112-G

F2L 1112-G

Adobe Beige

806
818
805*

1956 - 1957

L1H 1233

F1H 1233
OLDSMOBILE EXTERIOR COLORS

Desert Glow

90

1956

L1A 1272

JK-3667

Festival Red

20

1956 - 1957

L1R 1151-R

JK-3514-R

Ice Green

30

1956 - 1957

L1G 1139

JK-3502

Artesian Blue Metallic

41

1956 - 1957

L2L 1149-G

JK-3512-G

Juneau Gray

51

1954 - 1957

L2A 758

JK-2670

Alcan White

60

1956 - 1957

L1A 1141

JK-3504

Shantung Beige

63

1956 - 1957

L1H 1148

JK-3511

Rose Mist Metallic

92

1956 - 1957

L11R 1433-MM Acrylic
L2R 1273-R

JK-3668-X

Allegheny Green Metallic

31

1957

L2G 1424-G

JK-4089-G

Banff Blue

40

1957

L1L 1423

JK-4091

Grenada Gray

50

1957

L1A 1422

JK-4090

Charcoal Metallic

52

1957

L2A 1421-G

JK-4089-G

Coronado Yellow

61

1957

L1H 1425

JK-4093

Sunset Glow

62

1957

L1R 1426

JK-4094

Desert Glow

65

1957

L1R 1131

JK-3481

Royal Glow

66

1957

L1R 1427-MM

JK-4095-X

Cutlass Bronze Metallic

64

1957

L2N 1420-MM

JK-4088-X

Victorian White

90

1957

L10A 1428

JK-4158

Gold Mist Metallic

91

1957

L11N 1429

JK-4159

Sapphire Mist Metallic

93

1957

L11L 1430

JK-4160

Jade Mist Metallic

94

1957

L11G 1431

JK-4161

Platinum Mist Metallic

95

1957

L11A 1432

JK-4162

Vermilion

22

1957

JO-4096

JK-4096
Chevron Blue Metallic

57-B

1957

L2L 1347-G

JK-4058-G

Nassau Green

57-C

1957

L1G 1342

JK-4053

Chateau Gray Metallic

57-E

1957

L2A 1346-G

JK-4057

Fontaine Blue Metallic

57-F

1957

L11L 1357-G

JK-4136-G

Tartan Red

57-G

1957

L1R 1344-R

JK-4055-R

Charcoal Gray Metallic

57-H

1957

L11A 1351

JK-4130

Lucerne Blue

57-J

1957

L1L 1343

JK-4054

Sheffield Gray

57-K

1957

L1A 1345

JK-4056

Braeburn Green Metallic

57-L

1957

L2G 1348-G

JK-4059-G

Starlight Yellow

57-M

1957

L1Y 1350

JK-4061

Cordova Red

57-N

1957

L11M 1354

JK-4133

Kenya Ivory

57-P

1957

L10A 1356

JK-4135

Silver Gray Metallic

57-Q

1957

L11A 1353

JK-4132

Carib Coral

57-R

1957

L1R 1340-R

JK=4052-R

Limefire Green

57-S

1957

L11G 1352-G

JK-4131-G

Seacrest Green

57-T

1957

L10G 1355

JK-4134

Sage Blue

57-U

1957

L2P 1349

JK-4060

Nautilus Blue

57-D

1955

L1L 973

JK-3175

Sapphire Blue

57-D

1956 - 1957

L1L 973

JK-3175

Calypso Yellow

56-I

1955

L1H 1285

F1H 1285

Malibar Yellow

56-I

1956 - 1957

L1H 1285

F1H 1285

Avalon Blue

56-V

1956

L2L 1287-G

JK-3824

Kerry Green

56-O

1956

L2G 1288-G

JK-3823

Marina Blue

56-U

1956

L1L 1289-G

JK-3827

Rodeo Beige

56-Y

1956

L1H 1290

JK-3825

Lilac

56-Z

1956

L2P 1286-G

JK-3828

Sun Beige No. 2

56-W

1956

L1H 1291

JK-3826
Omaha Orange

774
788(L)

1936 - 1957

F1E 43143

No

Yukon Yellow

775
789(L)

1952 - 1957

F1Y 455

No

Pure White

776

1954 - 1957

F1A 1369

No

Ocean Green

765
778(U)
779(L)

1953 - 1957

F1G 618

Crest Green

Sand Beige

768
782(L)

1955 - 1957

F1H 1066

Yes

Bombay Ivory

791 and Upper

1955 - 1957

F1H 1044

No

Granite Gray

772
786(L)

1955 - 1957

F1A 1067

Yes

Cardinal Red

769
783(L)
791

1956 - 1957

F1R 1278-R

Heath Red

Golden Yellow

771
785(L)

1956 - 1957

F1Y 1279

No

Brewster Green

764
778(L)

1957

F1G 1477

Balsam Green

Royal Blue

767
780(L)

1957

F1L 1475

Midnight Blue

Indian Turquoise

770
784(L)

1957

F1G 1479-G

No

Alpine Blue

766
780(U)
781(L)

1957

F1L 1480-G

Azure Blue

Sandstone Beige

777
790(L)

1957

F1N 1476

No

Arctic Beige

-

1957

F1A 1478

used on Radiator Grille, Headlamps, Doors, Front Bumpers, Hub Caps