1968 Toyota Paint and Color Codes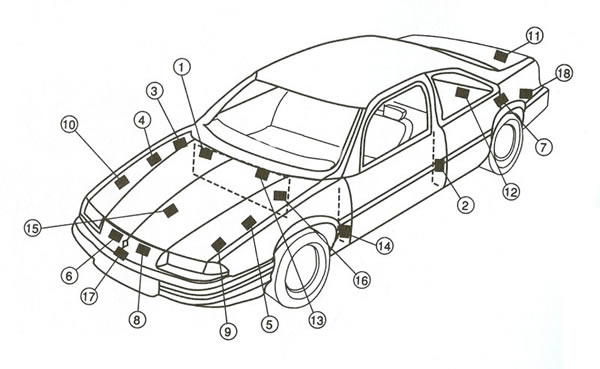 Locating Factory Paint Codes

Make

Code Location

Toyota

1, 10, 16
DULUX®:

Dulux is not recommended for the repair of LUCITE - or other Acrylic Lacquer finishes.


NOTE:

It may be necessary, at times, to tint colors to produce a satisfactory match due to normal weathering and changes in color standards. *Mfg. Code is same for these colors. Verify correct color prior to usage.


SAMPLE COLOURS:

Please note that the colour samples below were in effect from 1968.
Toyota Paint Chips and Color Codes for 1968

SAMPLE

COLOUR

MFG. PAINT CODE

YEAR

Toyota Capri Blue

T-310

99145

1968

F-29

Toyota Seminole Red

T-332

99146H

1968

F-30

Toyota Carnival Red

T-335

99147H

1968

F-31

Toyota Lily White

T-403

99148

1968

F-32

Toyota River Blue

T-431

99149

1968

F-33

Toyota Coronado Beige

T-451

99150

1968

F-34

Toyota Royal Blue

T-452

99151

1968

F-35

Toyota Judson Green

T-453

99152

1968

F-36

Toyota Yosemite Yellow

K-529

99153

1968

F-37

Toyota Spring Green

T-1028

99154

1968

F-38

Toyota Colosseum Beige

T-1123

99155

1968

F-39

Toyota Sulfur Yellow

T-1183

99156

1968

F-40

Toyota Horizontal Blue

T-1208

99157

1968

F-41

Toyota Volcanic Beige

T-1262

99158

1968

F-42

Toyota Sundune White

T-1276

99159

1968

F-43

Toyota Niagra Green

T-1287

99160

1968

F-44